Have you ever thought about what relevance a voluntary organisation's history might have today? Would you know how to find out more about such stories? How can voluntary organisations best look after and preserve their historical records and archives? Where do you start and how do you make the most of limited resources?
These were some of the questions addressed by delegates who met at the British Academy in June 2015 for the 'Recording the Voluntary Sector' workshop. This half day event formally launched the British Academy Research Project (ARP) 'Digitising the Mixed Economy of Welfare in Britain' – a five year infrastructure project led by UCL Institute of Education. The event brought together academics, charity archivists, amateur archivists and those passionate about preserving the heritage of voluntary organisations to exchange knowledge and ideas about how we can work together to preserve these valuable assets.
During the day we heard from many experts and voluntary organisations about the need for and problems of voluntary sector archives. With the launch of 'Digitising the Mixed Economy of Welfare in Britain' and the commitment shown by our project partners there is now renewed momentum and enthusiasm about charity archives that will take forward some of the preparatory work of the Campaign for Voluntary Sector Archives and will hopefully see the sector better able to preserve, digitise and use its archives.
Nick Ockenden at NCVO (one of our project partners) has created a storify of the tweets from the event and below is a selection of photographs from the day.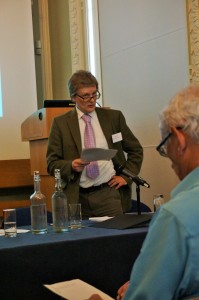 In our breakout session we had experts leading sessions on topics such as: the basics of archiving and cataloging, partnerships between academics and voluntary agencies, applying for funding, community and large charity showcases, and digital archives (click to enlarge images).
The event concluded with a brief comment by Justin Davis Smith (NCVO) and a wine reception.
After this successful launch we are now preparing for the future events and the next phase of the project. If you would like to contribute, or be added to our mailing list, please get in touch using the form below, or email the project's Research Assistant Charlotte Clements: c.clements@ioe.ac.uk.